Foundation Repair
You may ask "Why is my concrete slab foundation cracking?"  Concrete slab cracks are usually due to weak soil under the foundation, causing the concrete to settle into the ground and eventually cracking from weight pressure.  If you are experiencing settling of your foundation, cracks in the drywall, sagging floor joists, a sinking slab or cracked slab or if the building is on unsuitable foundation soils, then you have come to the right place.
Kettering Kustom Masonry is the experienced company to solve your foundation problems.  We have over 20 years of experience in the masonry industry.  If you are experiencing foundation settling, cracks or sinking of your foundation.  Do not delay in getting it repaired.
Signs that you need foundation repair:  cracks in brick facing, chimney cracking or leaning, stair step and horizontal cracks in the mortar joints, floors are starting to settle, uneven or sticking doors or windows.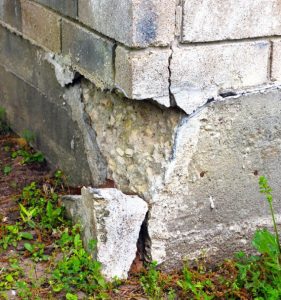 There are different types of foundation repairs.  Listed are a few and their descriptions:
Sister Foundation:  This is a cost effective solution where a new foundation is installed along the inside of the existing foundation.
Foundation Replacement: If you existing foundation is no longer performing, it can be removed and replaced with a new one.
Jack and Lift:  This is when areas of the home are sagging or no longer level, we can do a jack and lift to improve the floor flatness.
Pile (caisson) Supported Underpinnning:  This is when a site specific steel reinforcement with concrete.  This is used when substandard soil exists and will help to arrest future settlement.
If you are experiencing any of these foundation problems, call or send us an email.  We are glad to discuss your situation and even make a site inspection to give you a detailed quote.
We will provide you with a free homeowner estimate.  Provide you with a competitive pricing.  Complete a thorough visual inspection.  We service all the surrounding cities of Dayton Ohio, including Kettering, Beavercreek, Bellbrook, Centerville, Huber Heights, Miamisburg, Moraine, Northridge, Oakwood, Riverside, Springboro, Spring Valley, Vahdalia, West Corroliton, Waynesville, Woodbourne-Hyde Park and Xenia.
Use the form below for email or call:
CALL OR TEXT
Phone: 937-252-4932
Service Cities: Dayton, Kettering, Beavercreek, Springfield, Springboro, Bellbrook, Centerville,  Riverside, Waynesville, Huber Heights, Oakwood, Xenia, Washington Township, Miamisburg and Spring Valley, Ohio.
CALL FOR A CUSTOM QUOTE OR USE THE CONTACT FORM BELOW
CALL OR TEXT
PHONE:  937-252-4932